0:00/3:45

0:00/3:00

0:00/2:52

0:00/3:03

0:00/2:59

0:00/2:36
The instrumentation is lively and it is worth listening to the song multiple times just to hear the way the guitar and bass work together. The effect is masterful and helps to make ["Open for Business"] … one of the most memorable ones on the album.  
In its own way, "Before We Turn Out The Light" makes the blues come to life in a manner … [that] succeeds on its nuances and the bigger sounds that might encourage dancing in people given to doing so …. He is forthright and earnest in his  lyrical expressions. The lyrics and the way Harris brings them to life make audiences think of what inspired the song. Also, the organ, as a showcased instrument and as a part of the ensemble, sends a throaty vibration throughout the song.  
While all 14 songs are worth listening to, the two mentioned here, plus "Viagra Falls" are musically interesting and sometimes funny.  
Dodie Miller-Gould   -  https://lemonwire.com/2019/01/31/802739/
Harris is back and focusing where his heart is, his experiences in other genres add up to a seasoned listen that brings a maturity of performances and in life experience into his lyrics and melodies. Joined by a band of Chicagoans that also lend to the particularly tasty sound Harris is onto something very special with his original tunes.  Not to mention his facility on guitar, his solo ideas are stacked with solid rhythm and creatively complex ideas with sheer musicality.  Welcome back Ric Harris, the blues salutes you.  
 Nolan Conghaile  -  https://www.chalkedupreviews.com/blues/ric-harris-open-for-business-review/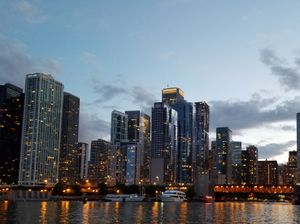 0:00/3:02

0:00/4:50

0:00/3:47

0:00/3:55

0:00/3:56

0:00/3:44

0:00/3:19

0:00/3:01

0:00/3:36

0:00/4:07

0:00/3:15

0:00/2:54

0:00/3:26

0:00/5:11